"I have been nominated to post 180 Sumero-Akkadian cuneiform tablets that profoundly influenced me, at any point in my life. One each day, for 180 days. I was instructed to post each tablet without explanation"
Day 1
I know it's supposed to be 'without comment' but I'm sure you're itching to know more about me, especially my thousands of new followers. This neo-Babylonian list of expenditures, probably from Sippar, Mesopotamia (modern Tell Abu Habba) takes me right back to spending several sleepless nights researching coffee machines. I eventually settled on a Gaggia Classic (pre 2015 model with the solenoid valve). Of course I modded it with an after-market Rancilio steam wand. Happy days.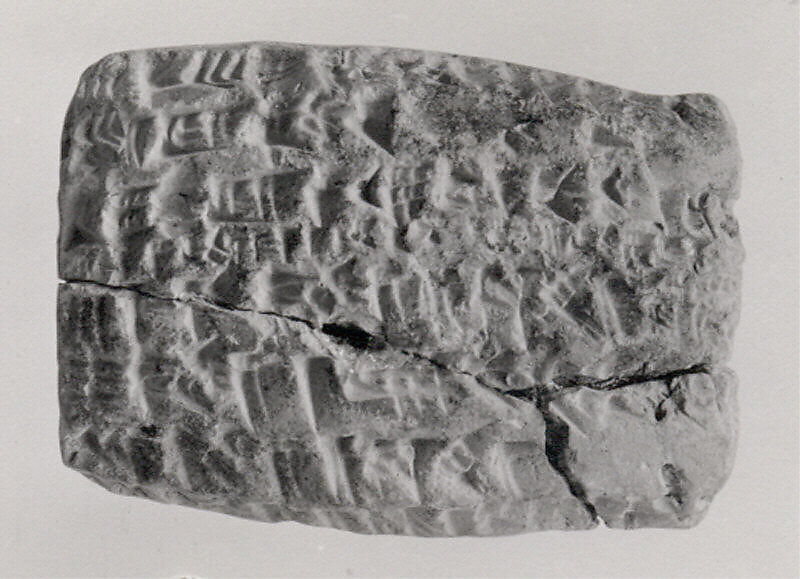 Day 2
This tablet from Warka in Iraq (from the collection of the NY Meteopolitan Museum of Art) is an administrative account concerned with the distribution of barley and emmer. I have to confess I didn't know what emmer is, embarrassingly enough. I'm sure the rest of you are aware that it's an ancient grain, and with the explosion in baking during the lockdown (we've even bought a Kitchenaid mixer!) I'm sure there are plenty of people enjoying emmer loaves with their breakfast this very morning, now that esoteric flours have been made readily available by the likes of Dove's Farm (though I see they're out of stock of their whole meal emmer flour at the moment). Anyway, I digress, because what this tablet really brings to mind is my childhood breakfast ritual. I had to use the shallow white rimmed bowl which was a perfect fit for three Weetabix to lie flat, side by side. The spoon had to be the rounded one with the dimpled decoration on the handle-end and the silver plating largely rubbed off the inside of the spoon-bowl, showing the warm (brass?) metal underneath. It was used first to sprinkle a decent layer of sugar across the three biscuits, then it was essential to have an unopened bottle of milk so that I could pour the creamy top of the milk over the middle Weetabix before moving first to the one on its left, then the one to its right, before eating in the reverse direction to the milk pour.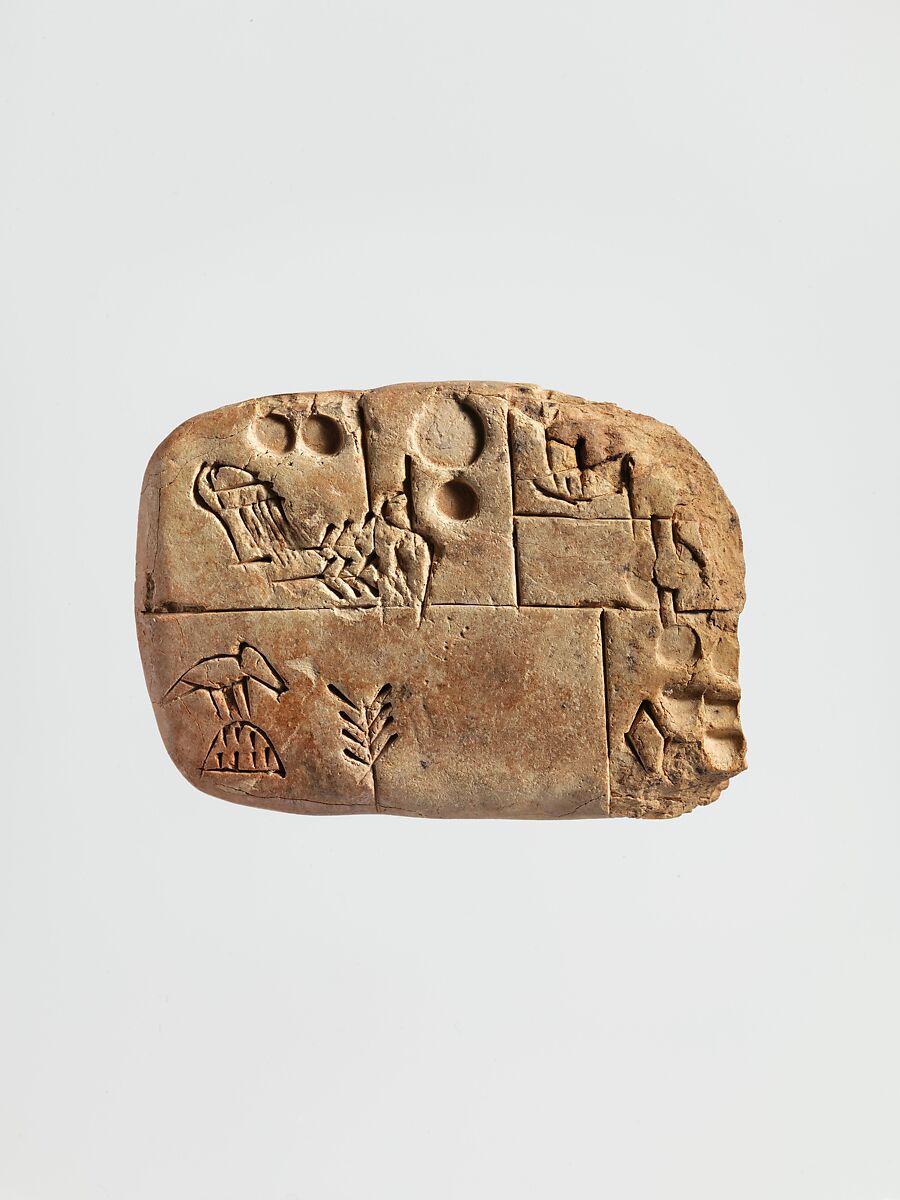 Day 3
This tablet from the collection of the British Museum (not currently on display) was found by the remarkable polymath, Sir Austen Henry Layard, at Kuyunjik, near Mosul. Layard is also credited with discovering the site of the biblical Ninevah, and believed that the Syriac Christian communities were descended from the ancient Assyrians who would have produced this tablet (which is particularly distinguished by being bilingual in Sumerian and Akkadian). One wonders what he made of its content, which the museum catalogue describes as: "incantations against the evil 'asakku' demon, which together with many other malevolent forces has attacked the sufferer in the head. The first spell describes its evil effects, and the second is recited over a kid, as a substitute to which the evil is transferred so that it can be effectively banished." As a keen comparative religionist he must surely have been struck by the parallels with the doctrine of substitutionary atonement. I'm not sure that I have ever been attacked in the head by a demon, though, conversely, I was once 'slain in the Spirit' at a Mission England crusade in Barnoldswick in 1984. At least that was what I believed to be happening at the time. When I hit the deck (assisted by a couple of volunteers enjoined to catch slayees as we fell) I recall wondering how long was a seemly time to remain prostrate in order to avoid scandalising the faithful by appearing less than suitably zapped, given that any supernatural effects appeared to have worn off somewhere between the vertical and the horizontal. I had expected to be seeing visions of glory or something, but the cracked paint on the ceiling of the former Majestic cinema failed to resolve into the form of the face of my Lord, or any other edifying manifestation.In due course, I would come to conclude that Catholics had the right idea by employing experts in the power of the ocular such as Michaelangelo to ensure that ceilings, where appropriate, should convey a more reliable sense of the numinous, regardless of the emotional state of the viewer.
Day 4
I've skipped a (Welsh) couple of days, I think. And I'm vanishingly unlikely to make it to the full 180 tablets. Yet I haven't thrown the towel into a laundry bin of self loathing. Yet. Must be all the mindfulness self-care stuff that Spotify has been throwing at me.
So, here we are with this delightful tablet from the John Rylands Library collection in Manchester, which includes a very rare example of a building-plan on clay. The assumption is that it's the plan of a temple, and it includes captions giving the lengths and thicknesses of the walls. The outer walls are three cubits thick, and the inner, two cubits, which strikes me as quite hefty (though I haven't delved too deeply into mural architecture). I suppose they didn't want their gods to escape. Given that surviving reliefs from Sumerian and Akkadian temples show them doing stuff like chasing dragons around with thunderbolts, I suppose that shows a degree of prudence that is also spoken to by the very survival of so many cuneiform tablets, most of which detail contracts for the transfer of oxen and the like that it's frankly difficult to get too excited about (though I am now working on it).
When it comes to religious buildings it is probably elevations that hold more interest for me than plans, and in any case if you get high enough you can see the horizontal shape spread out below, as well as how the building relates to its wider environment. In 1988 towards the end of my first trip abroad, Inter-railing with Angela, I scaled the 533 steps to the top of the world's third highest church, Cologne Cathedral, and looked out over the Europe we were leaving behind. I have climbed 7/8 of the way to the top of Durham cathedral tower with Katie, only for her to bottle out and refuse to go any further; Ed & I took turns to wait with her in a little niche off the spiral stairs so we could at least have a quick look out from the top, and see the Wear loop its way 270 degrees around the city like a gated moat.
But the most memorable time atop an ecclesiastical structure, at least with the benefit of the hindsight that is memory, was on the unassuming roof of Pusey House in Oxford. I was up there with Nick Penfold during a break in preparations for our college production of Murder in the Cathedral that was to be performed in the chapel. I was co-directing, and Nick set-building. We had been loaned keys that got us to places not normally accessible, including the roof, so up we went and got a view of our college that not many would have had, over the top of Vinson Block into the quad. Nick was a good friend. A really good friend. Not long before, I'd spent much of the Easter vacation at his home in Hale Barns. A few short years later, he got his first proper post-graduation job as a writer of technical manuals (the important bit was 'writer'), bought a motorbike, and rode it up the M6 towards a wedding in Scotland where he never arrived. Nick's death was when I discovered what grief was. Is there a height from which he looks down and sees the plan I can't? We'd both had similar Christian conversion experiences and involvement in evangelical groups in our teens. We'd both lain on our backs on a summer night in Wellington Square drinking cider and concluding we could no longer be sure.
But I'm with Thomas Hardy, and his oxen: hoping it might be so.